A transformation to become circular by design
Gucci's heritage of timeless luxury and craftsmanship is elevated within the House's vision of a modern, responsible and circular luxury for the future. By its very virtue, luxury has circularity already built-in, retaining the quality and longevity of its products to foster their preservation and their rediscovery, again and again.
Our aim is to bolster these inherent attributes and embed circular principles in our business model every step of the way so that value is created in nature and communities too; becoming a virtuous circle to celebrate, extend and reimagine the beauty of luxury.
In our pursuit of circularity throughout the design process we have been transforming our supply chain, from how and where we source the raw materials for our collections, to the efficient and innovative processes we use to make them. Our ongoing objective: to design out waste and pollution while enhancing durability, reuse, recycling and second life.
We also work with experts and organizations to further scale and embed the principles of the circular economy across our activities. To complement and augment our ongoing efforts, we became a Strategic Partner of the Ellen MacArthur Foundation, a leading authority on the circular economy.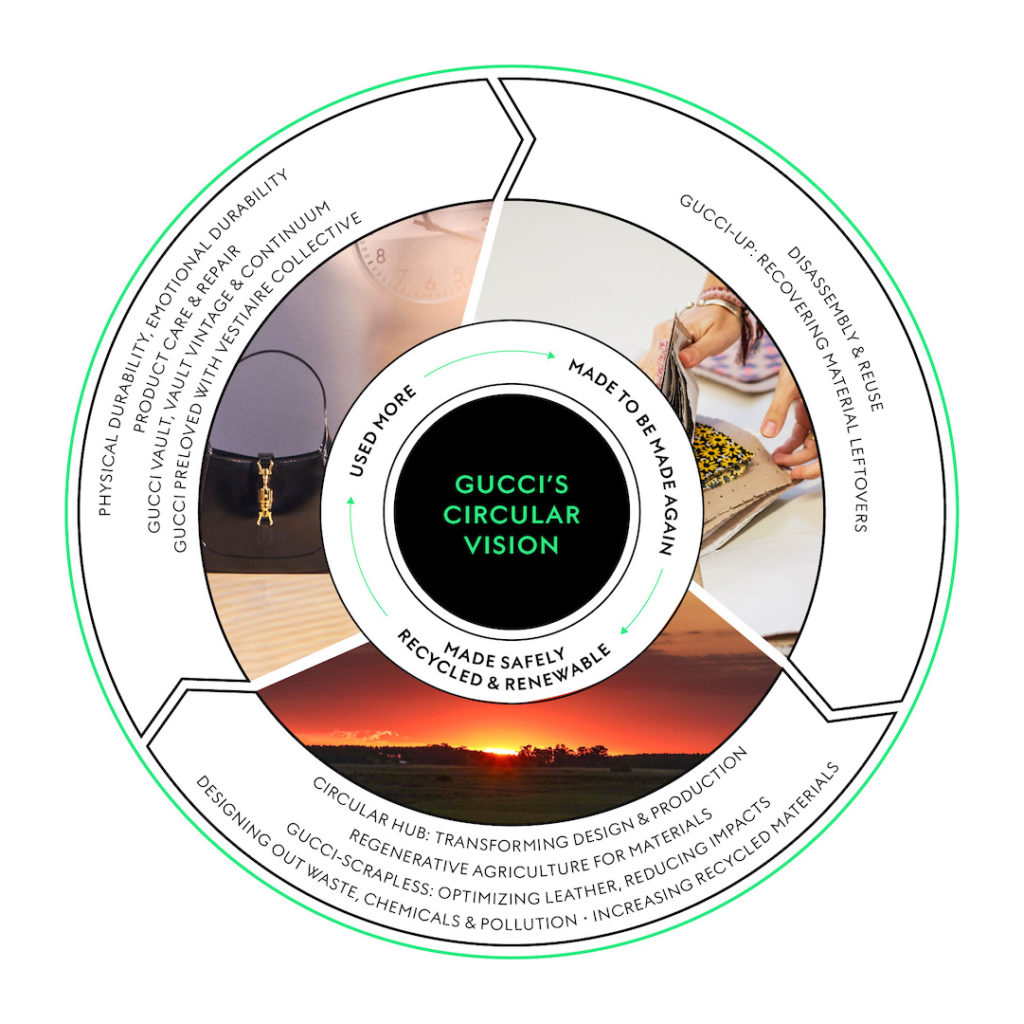 Used More for an Everlasting Circle
We have been powering ways to create, recreate and extend the lives of our products; developing new services and leveraging new business models that are fit for the future.Here, reinventing and modernizing products and materials of the past takes on not just a second life, but a brand new life. Emotional durability is already built in. This is complemented by the physical testing of all our products' durability itself and, even further, when they reach our clients, we provide product care and repair services so that our clients can continue to enjoy their Gucci items over time. We have a global network of product care centers to ensure timely repair by expert artisans. For us, creation coupled with innovation is at the centre of circularity, where we can take the old and make new again, in an everlasting cycle.
Durability for Longevity
Our collections retain their desirability for the long-term. This emotional durability coupled with physical durability is part of our bigger circular vision. We want our products to maintain their functionality and their original shape, strength, and appearance after being exposed to wear, washing and other stresses we all encounter in our day to day lives. Depending on the item itself and the materials used, we have strict protocols and techniques to test products and their various components, anywhere from stress tests to examine strength and tear thresholds to tests around crease recovery after wear and washing, and water resistency after aging. As an example, our Gucci ArtLab in Florence has also developed customized machinery and unique technology for leather goods and shoes to put a number of our products through their paces, literally. These durability tests, and others, enable our products to last longer, to be loved longer.
Gucci Vault for Archival Vintage
With the launch of Vault in 2021, we created a platform blurring the lines between the past, present, and future to create truly one-of-a-kind items and curated capsule collections by inviting designers, brands, and artists to foster inspiring dialogues. As part of this experimental approach, while moving forward by looking to the past, Vault Vintage has presented archivist-selected vintage finds that have been reconditioned by our in-house artisans. Each piece became ready to begin a new chapter, extending the life cycle of the House's designs.
Preloving for the Future
New business models geared towards extending the life of products play an important role in our industry's circular ecosystem. We were one of the first movers in the secondary marketplace for luxury and, over the years, we have continued to venture into this field by exploring synergies with leading platforms. This includes The RealReal in 2020 for the launch of a temporary online shop dedicated to a curated array of preloved Gucci Preloved items. Building on this approach, we established a new partnership with Vestiaire Collective, Gucci Preloved with Vestiare Collective, geared to our clients who wish to trade in selected Gucci pieces first offered in 26 stores across Europe.
Continuing with Gucci Continuum
Further down the exploration path forged by Vault, we are ready to unveil a next chapter that will perpetuate the life of past pieces and deadstock fabrics: Gucci Continuum. Rooted in the idea of metamorphosis and creative upcycling, as well as the concept that our design codes are tools to articulate individuality, Continuum is conceived as an ongoing project, welcoming a varied cast of creative voices to give a new life to our leftover materials through their distinctive creative lenses.
Made to be Made Again
While we are working across all aspects of product design we are focused on the areas where circularity can play an even greater part. Our collections embrace a continuous narrative made of a mixture of carry-over pieces and new items, which means they are seasonless and have a timeless appeal that enables our clients to wear their items for longer. We optimise disassembly for leftover or damaged inventory to better enable the reuse of our products and materials and our fabric and leather offcuts from manufacturing are given a new life too; our mission is to keep these beautiful materials in circulation, over and over again.
Gucci-Up
We launched Gucci-Up in 2018 to recover and upcycle the leftover and deadstock fabric and leather from our manufacturing. As a result, we have been able to reuse these materials in our own supply chain and whatever we do not use ourselves we either put back into the marketplace or donate to NGOs and social cooperatives in Italy. These organisations support the training of people from marginalised groups, including women, migrants, and Disabled people, and their re-integration into the community. We are focused on expanding Gucci-Up as well as creating other solutions to upcycle our leftover materials.
Disassembling to Reintroduce and Reuse
A big lever to support our ban on destroying any leftover and damaged inventory is disassembly so that it can be reintroduced into our supply chain. We work with a variety of partners to sort, dismantle and recycle these items and we are also optimising dedicated sales channels and innovations, improving on our efforts to limit any additional inventory we might have. To further help coordinate these efforts, in 2022, our parent company Kering created a centralised dashboard to track and monitor stock levels across the Group by using data analysis. In addition, Kering has been modelling sales through Artificial Intelligence to continue to predict sales and, consequently, production.
Made Safely, Recycled and Renewable from the Start
We are embedding circular principles into our product design right from the very beginning, improving raw material sourcing and optimizing processes.This means that we use less resources through recycling and upcycling efforts, while being more efficient during manufacturing to reduce waste production and pollution, ensuring our strict Manufacturing Restricted Substances List (MRSL) for hazardous chemicals is followed and using renewable energy. We also invest in regenerative farming projects to support the transformation of our supply chain.
Circular Hub
We announced the launch of the "Circular Hub", the first hub for circular luxury in Italy, in February 2023 to accelerate the circular transformation of the Italian fashion industry's production model, through the redefinition of the entire value chain. Starting from raw materials and design, through to production optimisation and logistics, the Circular Hub will be an open innovation platform for the design and manufacturing of circular products and the scouting of new solutions.
Regenerating Nature
Since 2020, we have been investing in regenerative agricolture as part of our sourcing strategy, including regenerative silk, cotton, linen and wool supply chains. We made a commitment to source regenerative raw materials for our collections and this goal is also a pillar in our circularity strategy. Regenerative farming practices enable a range of benefits for people and planet, such as: improved soil health, water quality, biodiversity, animal welfare and carbon sequestration for the long-term. It also contributes to local livelihoods, supporting farming communities and enabling farmers to become holistic guardians of their land. We have been scaling up regenerative agriculture and reviving local supply chains through partnering with a number of projects in Italy and around the world so far, including: regenerative wool from Uruguay, where we are supporting a group of ten farmers for the adoption of regenerative agriculture practices, with a projected potential to replace 19% of the conventional wool we currently use; regenerative wool from Alpago, in the Italian region of Veneto, whereby we have already started integrating this wool into our collections starting with Gucci Aria; and silk from an organic farming pilot project in the South of Italy that can be used in the House's future collections.
Recycling Materials
We have focused a lot on more sustainable ways for sourcing so that we use lower impact materials across our collections, while exploring new innovations along our supply chain. Which is why reducing virgin raw materials in favour of recycled options has been a big part of our circularity push for years now. Our Gucci Off The Grid collection has been a great example of optimizing recycled materials; the main material is ECONYL® regenerated nylon 100% obtained from pre- and post-consumer waste, such as abandoned fishing nets and carpets, with other elements made from recycled materials and more sustainable alternatives such as metal or chrome free tanned leather, recycled polyester thread and linings, recycled brass, recycled gold and palladium hardware coating, and solvent-free adhesives.
Gucci Scrap-less
Since its launch in 2018, we have been reducing our leather manufacturing footprint through the Gucci Scrap-less initiative. Instead of following traditional methods, we realized we could save a significant amount of the hides themselves, thus reducing offcut waste, as well as seriously reducing the energy, water and chemicals required to treat them just by cutting hides to the sizes we need before tanning. Scrap-less also reduces transport-related greenhouse gas emissions from tanneries to factories.
Partnering for Progress
We collaborate and partner with the key organizations leading the way towards a more circular and regenerative fashion industry. In July 2022, we joined the Ellen MacArthur Foundation as a Strategic Partner to further strengthen our commitments to a circular economy that is regenerative by design, expanding on the many initiatives we have already established. We are also members of the Re.Crea, a new consortium coordinated by the National Chamber of Italian Fashion to ensure waste and end-of-life management for textiles and other items. With a central role in our industry's ecosystem, Re.Crea will support the transformation towards the circular economy.